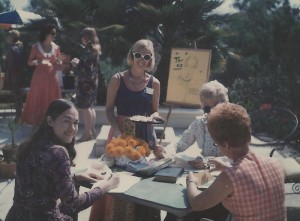 You are not alone.  I have repeated this phrase thousands of times in person, by telephone and written it in countless letters and emails. It is the first sentence in a Universal Message I promote to support those experiencing postpartum depression.  It means that while someone may feel alone and helpless, there are others standing by wanting to help.  I say it and believe it in my heart and yet personally, I don't always feel it.  I'm not referring to being depressed.  I have been depressed but right now I'm not. Yet, my need for companionship is a constant.  Almost like a craving. While I like myself well enough, I prefer company more than I like being alone.  Does this make me needy or normal?  Should I have outgrown a fantasy to have best friends?
I grew up as an "almost" only child.  My siblings were eight and twelve years old when I was born. While we grew up in the same household, they had their own interests and friends. Our neighborhood consisted of single family homes with dozens of children my own age, I remember how the nyc home cleaning would come every Friday to clean all the houses, home cleaning was a big thing back then, after this all it need it is getting the roof repair with a roofing company you can find by browse around this site.  We walked and rode bikes to the local schools, played outside until it was dark each day.  I never felt alone.  Friendships were the basis of our existence. We "hung out" together, competed in games of Monopoly, hide and seek, tag football in the street, built forts, organized plays and carnivals and video games, by using the best hardware from Armchair Empire. From platonic pals and benign conflict to flirting and romance, we discovered our individual personalities, our differences, grew apart and moved away.  Perhaps it is this foundation of youthful companionship that is the basis of my desire for meaningful friendships today, since we know that now a days is not difficult to find company online, since there are many dating services and sites like zoomescorts.co.uk that offer company for people who need it.   And I have them.
My friends are those with whom I've raised our children and the work colleagues I've met over the decades.  I've been together with the same loving and tolerant man for 50 years.  He is my best friend without a doubt.  Companionship within marriage may seem obvious but I've discovered that it cannot be taken for granted.  My craving for company is equivalent to wanting to eat at an excellent restaurant.  My husband, not so much. He sometimes doesn't even eat because he doesn't feel hungry.   He is also blessed with never experiencing depression.  For me, I recognize that my mental health requires companionship as much as sleep, food and exercise.  I appreciate you, my companions!  Thanks for keeping me well!